Annuity Vs. Lump Sum Calculator
An Annuity vs. Lump Sum Calculator is a financial tool designed to compare the long-term value of receiving a large sum of money all at once (lump sum) versus receiving smaller, regular payments over a period (annuity). It helps make informed decisions when faced with options like pension payouts, lottery winnings, or large settlements.
Annuity vs. Lump Sum Calculator Instructions
This calculator operates by taking into account the total amount of money available, the period over which annuity payments would be spread, the frequency of annuity payments (monthly, yearly), and the expected rate of return on investments. It calculates the future value of the lump sum if invested versus the total amount you would receive from annuity payments over time.
Enter Your Age: Type in your current age.
Input Lump Sum Amount: Add the total one-time payment you're considering.
Pick Annuity Type: Choose from the payment options.
Set Annuity Start Age: Decide when you want the annuity payments to begin.
Check Results: The calculator will compare the lump sum vs. annuity payments.
Decide: Based on the results, pick the option that suits you best.
Consult an Expert: Talk to a financial advisor (like us) for a deeper understanding.
Follow these steps to choose between a lump sum and an annuity.
Who Should Use This Calculator?
Individuals facing decisions about pension distributions, lottery winnings, or large financial settlements benefit most from this calculator. It's especially valuable for those nearing retirement, helping them understand how their choice affects long-term financial security.
Why Use an Annuity vs. Lump Sum Calculator?
Using this calculator provides a clearer picture of the potential long-term financial implications of choosing between a lump sum and an annuity. It assists in understanding how each option aligns with personal financial goals, considering factors like investment returns, inflation, and personal spending habits.
Annuity vs. Lump Sum Comparison
| Factor | Annuity | Lump Sum |
| --- | --- | --- |
| Payment Frequency | Regular intervals (e.g., monthly) | One-time payment |
| Financial Planning | Easier budgeting, steady income | Requires self-management |
| Investment Risk | Lower, as payments are fixed | Higher, depends on investment choices |
| Inflation Impact | Fixed payments may lose value over time | Potential to invest to outpace inflation |
| Flexibility | Limited, set schedule | High, funds are immediately accessible |
| Suitability | Ideal for those seeking financial stability | Better for those comfortable with investment risk |
Transferring The Lump Sum Into A New Annuity
To maximize the lump sum option, compare the pension annuity payments to rolling it over to a new annuity (without tax penalties) offering guaranteed lifetime withdrawals (GLWB). Additionally, use this pension payment calculator to forecast future withdrawals if you're nearing retirement, but not for several years.
| Feature | Pension Payments | Guaranteed Lifetime Withdrawal Benefits |
| --- | --- | --- |
| Nature of Payment | Regular payments for life or a specified period. | Regular withdrawals from the account value for life. |
| Flexibility | Limited flexibility once payments start. | More flexibility to start, stop, or change withdrawal amounts. |
| Control Over Principal | No control, as the principal is exchanged for payments. | Retain some control over the remaining account value. |
| Death Benefit | Typically, no benefit after death (depends on the payout). | Remaining account value can be passed to beneficiaries. |
| Impact of Market | Market changes do not affect the payment amount. | Withdrawal amounts may be affected by account performance. |
| Liquidity | No access to lump sum cash after annuitization. | Access to remaining cash value, subject to terms and fees. |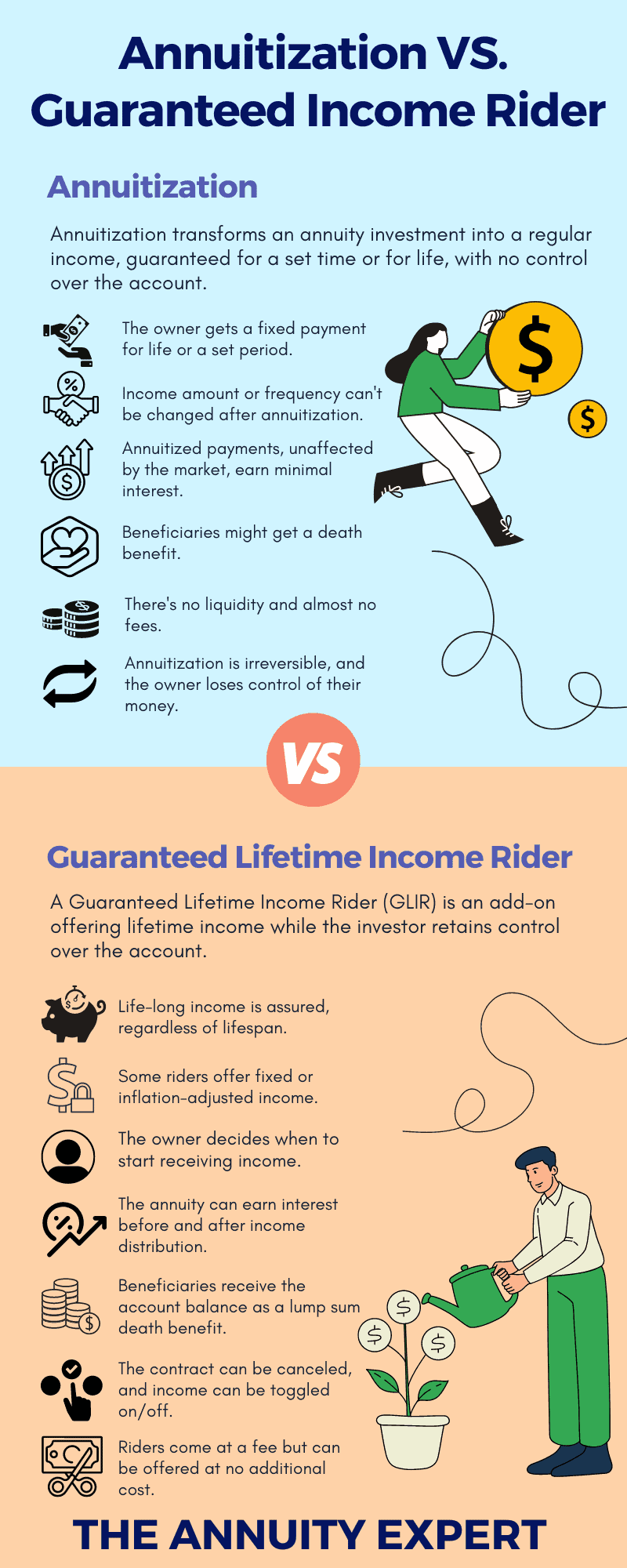 Next Steps
Deciding whether a pension annuity vs. lump sum is better for you depends on several personal factors: your health, life expectancy, financial management skills, and personal goals. While the debate between annuity and lump sum is a complex one, understanding the implications of each can empower you to make the choice that best serves your future. For expert advice and a deeper understanding, contact an annuity broker. They can guide you to make the best choice for your financial future.
Request A Quote
Get help from a licensed financial professional. This service is free of charge.