Deciding where to spend your retirement years is a significant step for people of all ages. However, other economic factors come into play when selecting the ideal place, such as cost-of-living, taxation rates, climate conditions, and recreational opportunities – which can immensely influence your quality of life in retirement destinations. For this reason, you must do some research and ensure the chosen location suits you and your family comfortably. This guide will explore different criteria for finding an idyllic destination.
The Best States To Retire In
What are the best states to retire in? I analyzed data regarding the cost of living, overall quality of life, tax burdens, weather, and crime rates to create this ranking, giving you a clear overview of the best and the worst states to retire.
What Should You Consider When Choosing the Best State to Retire in?
When looking for the ideal state to retire in, there are several other risk factors you should take into account.
First, consider the overall cost of living in the various states. Research the average cost of goods and services, taxes, and housing costs in the state of your choice. This will help you determine if it fits your budget well.
Second, think about the climate in the states you're considering. Depending on personal preference, some may prefer to live in a warm or cold climate year-round. Additionally, those who like to travel may need to consider nearby airports, roadways, public transit, and other transportation options.
Third, determine what kind of healthcare services are available in the area. Review U.S Census Bureau data to see if the state has a high-quality healthcare system and determine what types of medical insurance are accepted by local providers. Depending on your life expectancy, retirement age, and your preferences and needs for healthcare costs, you may benefit from better services in some states over others.
What States Have The Highest Cost of Living For Retirees?
The cost of living can vary widely from state to state. For example, a retiree in Hawaii might have substantially higher costs than someone in Alabama due to higher taxes, more expensive housing, and limited access to public services such as healthcare. In addition, some states have enacted laws specifically designed to help seniors with their costs. Here is a look at some of the states with the highest and low costs of living for retirees: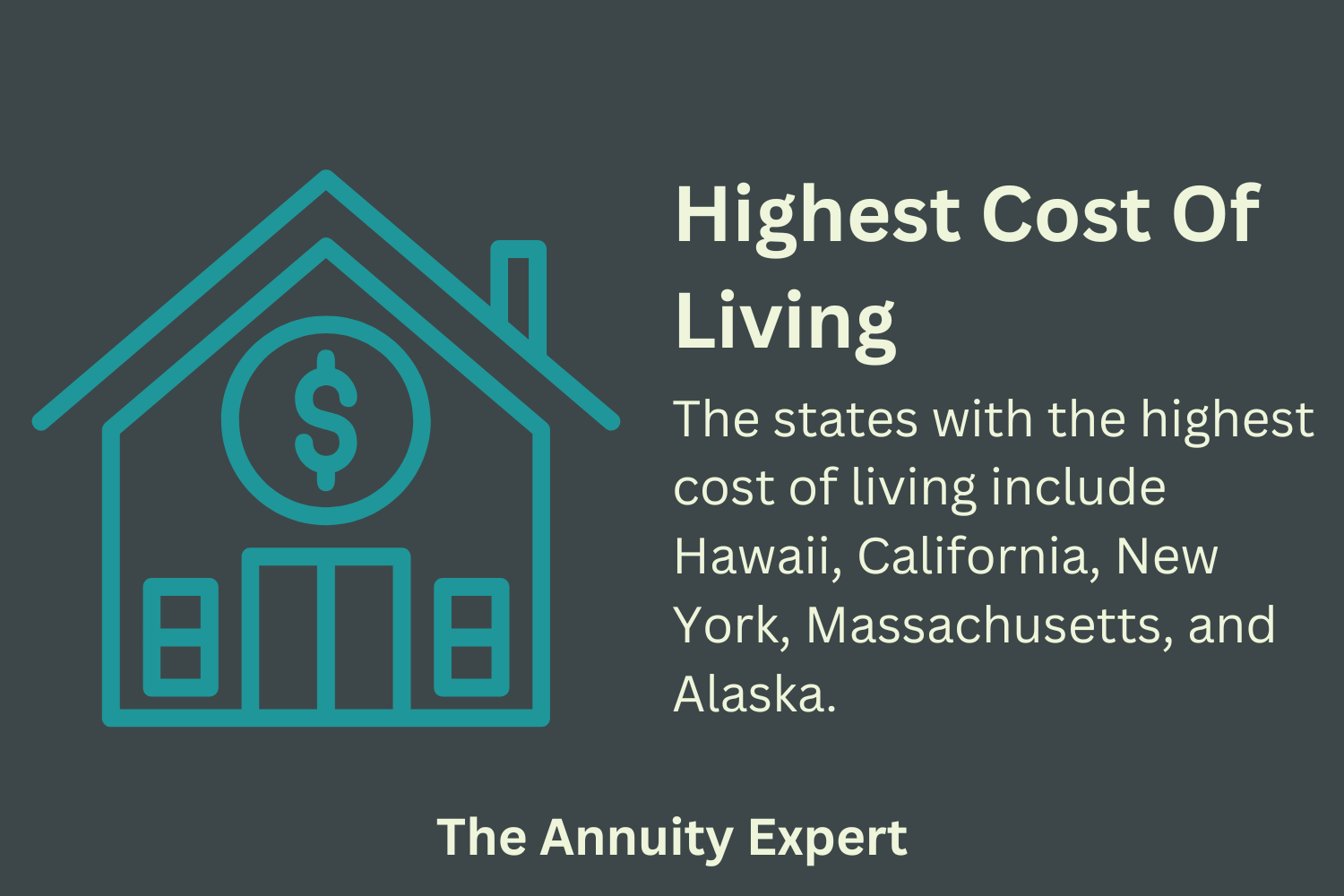 What States Have The Lowest Cost of Living for Retirees?
The states with the lowest living costs for retirees include Mississippi, Oklahoma, Kansas, Alabama, and Georgia. These states have lower tax rates, cheaper housing costs, and more affordable day-to-day necessities such as groceries, public transportation, and medical care.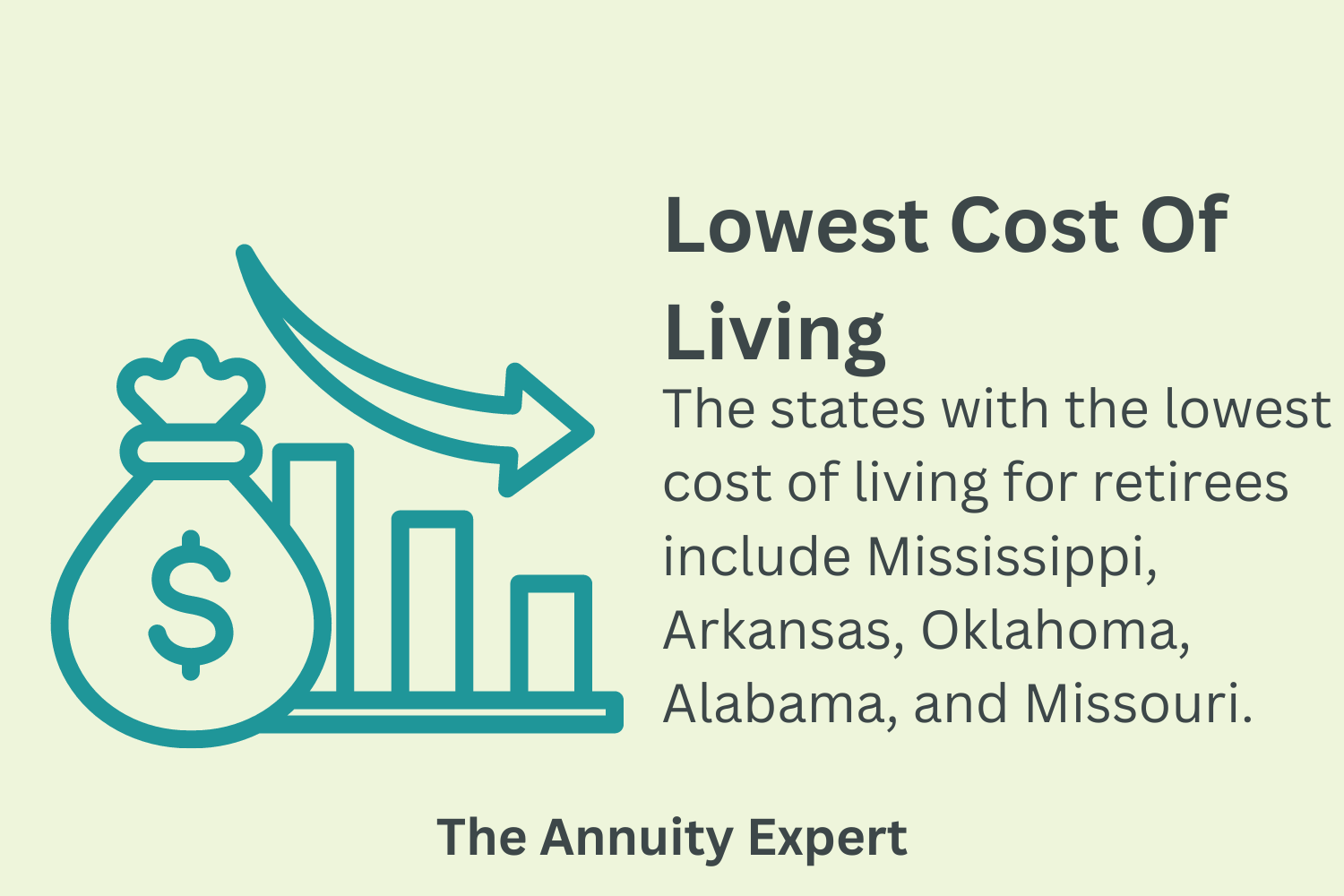 What States Offer the Highest Quality of Life For Retirees?
Regarding retirement earnings, most of us think about our monthly budgets and how much money we'll have saved. But if you want to enjoy your golden years, other essential elements come into play. Quality of life should be a significant consideration. Identifying which states offer the best weather, quality health care, taxes, and overall lifestyle is essential.
Here is the ranking of the best states to retire when it comes to the overall quality of life.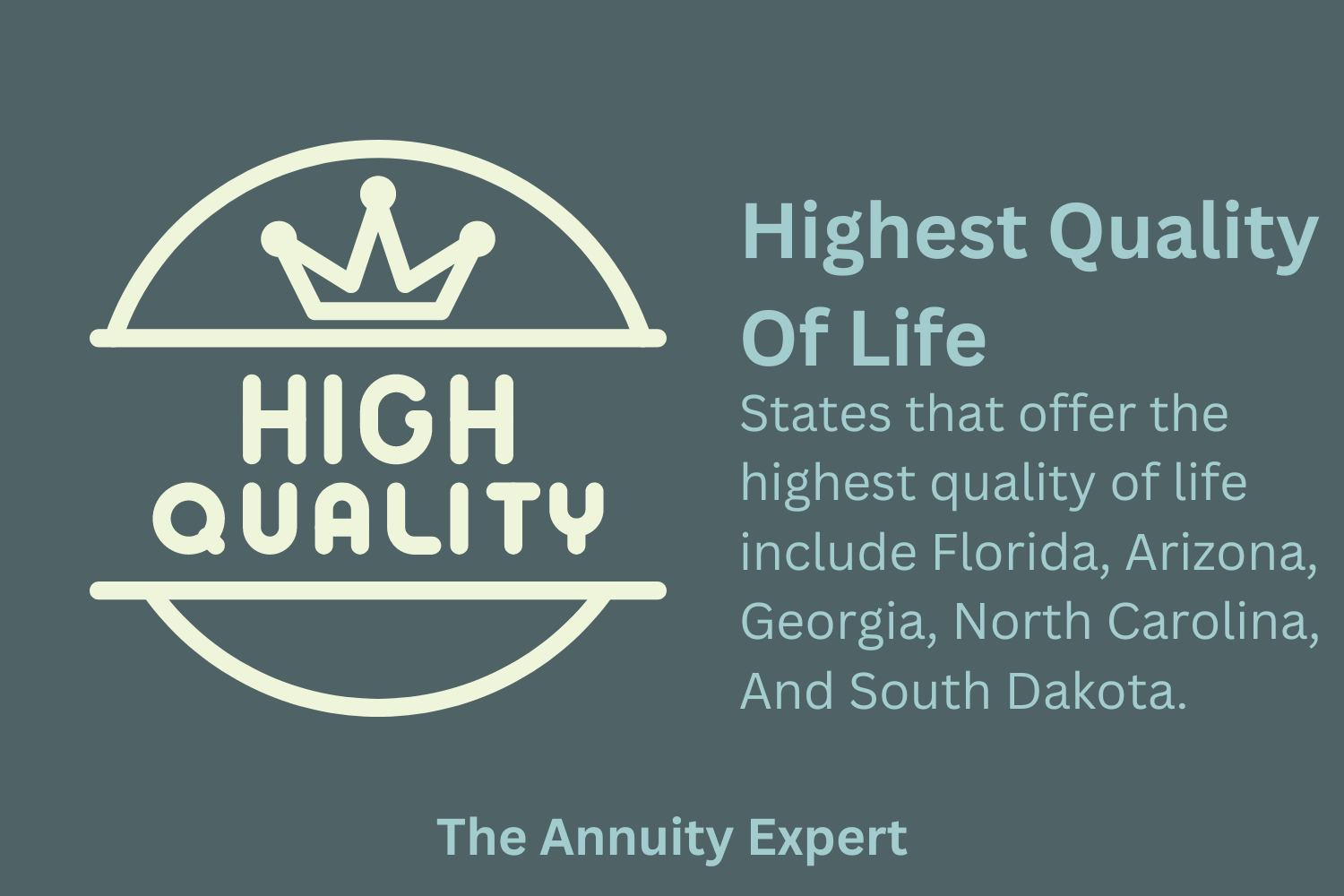 What Are The Most Tax-Friendly States for Retirees?
When deciding on a location for retirement, state income taxes are an essential consideration. Below is a list of five of the most tax-friendly retirement states:
Alaska: Although Alaska has some of the highest sales taxes, there's no income tax, and residents are eligible for a yearly dividend from oil royalties. The state offers financial assistance programs to qualifying seniors.
Wyoming: Wyoming has low personal and corporate income taxes and no estate or inheritance taxes.
Tennessee: Tennessee has no state income tax, and the living costs are generally lower than in other states.
South Dakota: Another state that does not have any individual income taxes, inheritance tax, or estate tax is South Dakota.
Michigan: Michigan's income taxes are among the lowest in the country, and the state offers a wide range of senior citizens discounts on taxes and other expenses. The state has no city, local, or county sales tax.
Alaska, Wyoming, South Dakota, and Tennessee do not impose any taxes on social security benefits.
These five locations offer a great combination of low taxes and an enjoyable lifestyle. Research the various tax codes in different states before deciding on a location. Be sure to consult with a qualified financial advisor or tax professional to ensure the right decisions are made.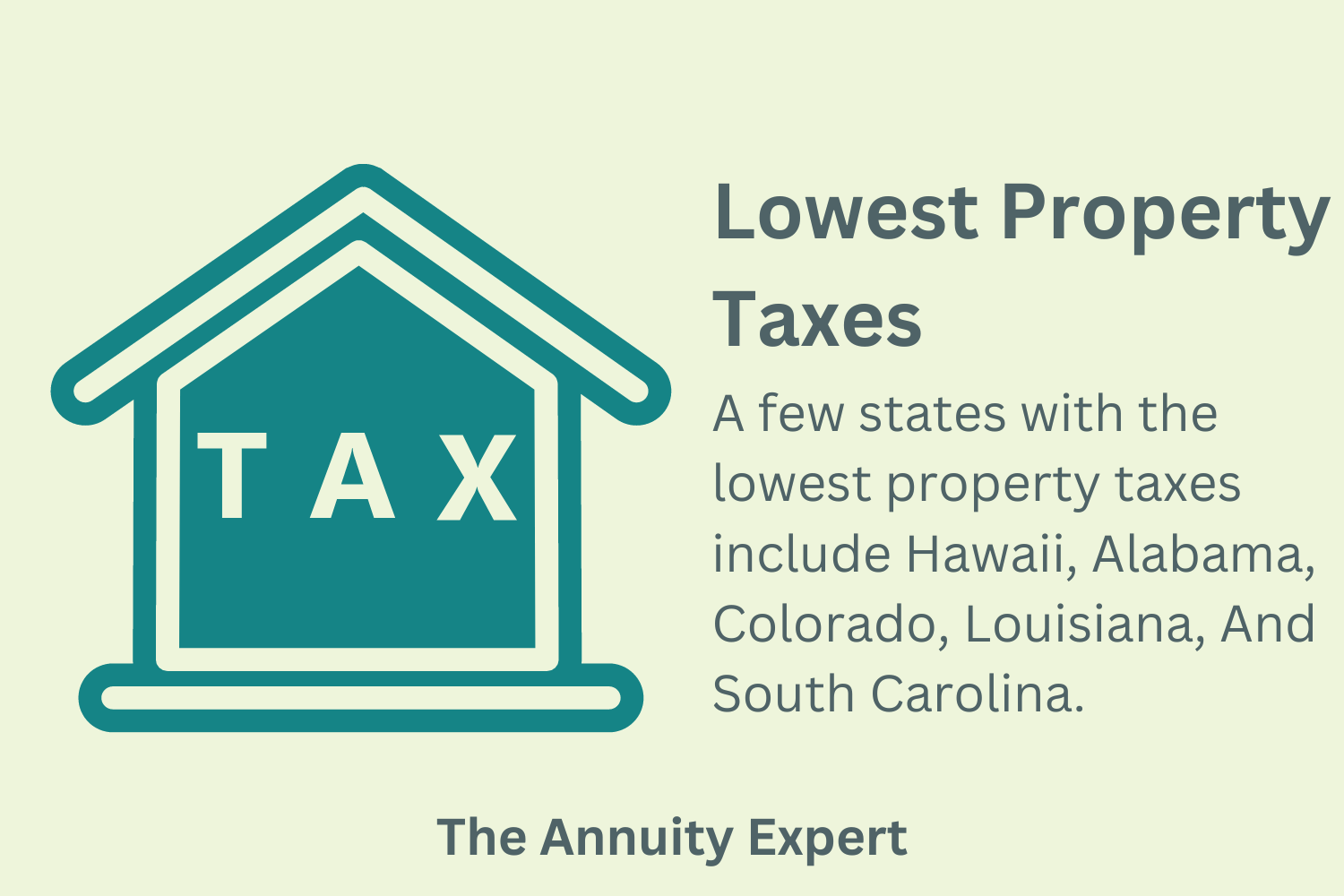 Which States Have The Lowest Retirement Income Taxes?
As retirees plan, one crucial factor to consider is the tax burden on their income. Different states have different rates of taxes that apply to various types of earnings, such as Social Security benefits, pensions, and IRA distributions. For example, Alaska, Florida, Nevada, South Dakota, Texas, Washington, and Wyoming have no income tax, so those who move to those states will not have to pay any taxes on their earnings.
Tennessee and New Hampshire are two other states that offer low-tax options. Tennessee only taxes interest and dividends, while New Hampshire taxes only dividends and interest earned over $2,400 per person or $4,800 per couple.
In addition to state taxes, you should also consider the impact of federal taxes on their earnings. Social Security benefits are generally not taxed federally, but other types of income may be subject to federal taxation. The Internal Revenue Service (IRS) offers a variety of deductions and credits that can lower the federal tax owed.
Retirees must understand the types of taxes they will be responsible for as they plan their earning strategies. Knowing which states have the lowest tax rates can help to keep more money in a retiree's pocket. With careful planning, economic research, and consideration, you can maximize your income and enjoy the fruits of your golden years.
Which States Have the Lowest Property Taxes?
Property taxes are a significant financial burden that needs to be considered when planning. While some states offer seniors property tax exemptions or other incentives, others can be prohibitively expensive. To help retirees find the most cost-effective location for their retirement, here is a list of the ten states with the lowest property taxes in 2022 compared to the national average:
Retirees should remember that these property crime numbers can vary significantly from county to county, as some areas within a state may have higher or lower taxes than others.
The cost of living in potential states should be the primary consideration when creating an earning strategy. By researching and understanding the taxes in each state, you can better determine where to live, maximizing your overall financial well-being.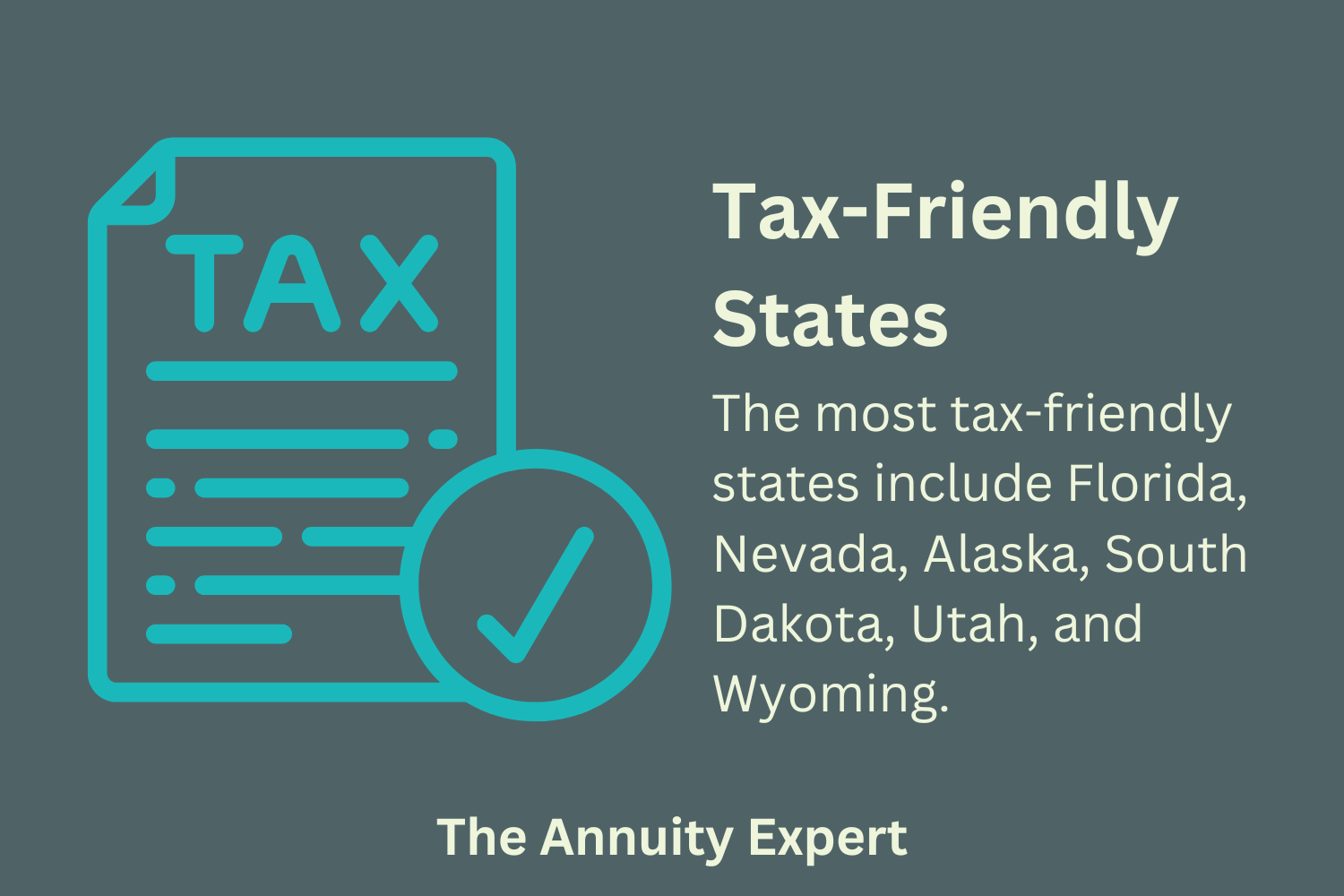 What States Have The Lowest Crime Rates?
According to the Federal Bureau of Investigation's most recent Uniform Crime Report from 2021, the states with the lowest crime rates in major categories in the United States are listed below.
With the world constantly changing, it is difficult to predict what states will have the lowest crime rates in 2023. While these states currently have the lowest reported crime incidents, that could easily change due to population shifts or other external factors. Therefore, staying current on the most current crime statistics is recommended if you are looking for a state with the lowest crime rate in 2023.
Additionally, it is essential to note that even in states with low violent crime rates, there are always risks involved when it comes to retirement planning. It would be best if you researched different income strategies and action plans for your future to ensure your golden years are safe and secure. Seeking advice from a financial advisor can be invaluable in helping you create the best plan for your future.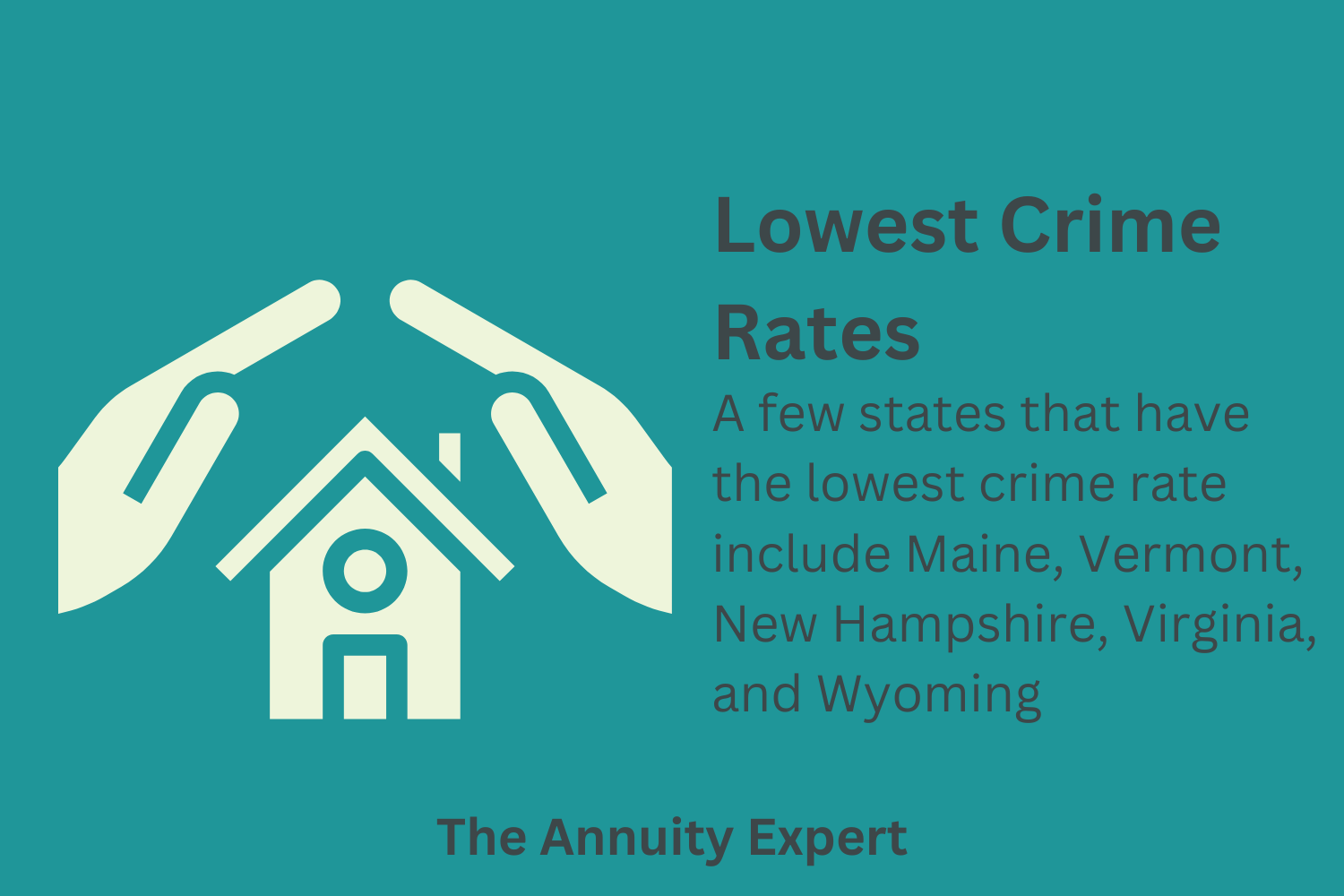 Where Should I Retire?
When considering retirement, there are many factors to consider before deciding where to spend your golden years. Not only do you want to choose a location that suits your lifestyle, but you should also be mindful of the financial implications of relocating. Here are some questions to help you decide:
What kind of climate and environment do I prefer?
What is the cost of living in my chosen destination?
Does the area have a strong economy and job market?
How close are hospitals, doctors, and pharmacies?
Are there any tax advantages or benefits that can offset living costs?
Are there any special programs for senior citizens in the area?
What kind of recreational and cultural activities are available nearby?
Once you've asked yourself these questions, it's time to create a budget considering your expected earnings and expenses. To ensure your budget is realistic, consider using an online retirement savings calculator to help you estimate how much money needs to be saved each month to achieve your desired lifestyle. It's important to remember that while purchasing a home or property may be tempting, this is often not the best financial decision for most retirees. Before making real estate purchases, consider renting, which can provide flexibility and potentially lower costs.
No matter where you choose to retire, it's essential that you have a plan for how best to generate proceeds in your later years. Popular options include Social Security payments, pensions, annuities, reverse mortgages, and investments. Furthermore, many retirees pursue "encore" career opportunities that allow them to remain active and engaged in something they enjoy.
Ultimately, the key to a successful retirement is to create an actionable budget and explore all available options to find the best retirement solutions for your needs. Then, with careful planning, you can rest assured that you have created a retirement plan to ensure financial stability for years.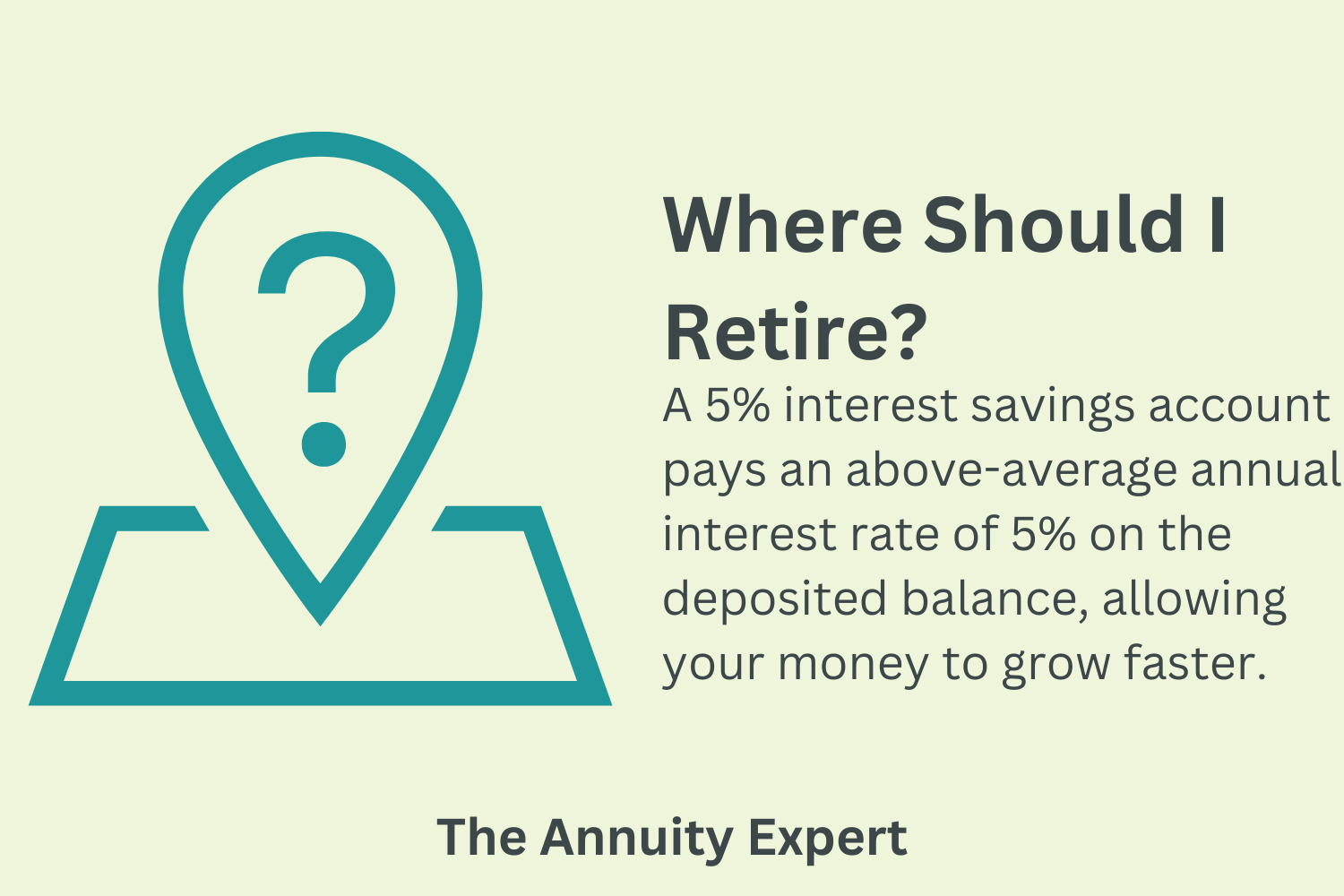 Next Steps
Retirement is a particular time in a person's life. It can also be one of the most daunting times as it involves a huge life decision. Finding the best state to retire in can seem overwhelming, but ultimately, it is worth the research. The key is to find the place that suits your personality and lifestyle perfectly. You can create the perfect retirement plan with active community and economic research!
Enjoy this new journey and cherish every moment of your dream retirement! Contact us today to discuss your retirement goals!
Request A Quote
Get help from a licensed financial professional. This service is free of charge.
Frequently Asked Questions
What are the three states that don't tax retirement income?
Alaska, Florida, and Nevada.
Which states do not tax pensions and Social Security?
Alaska, Florida, Illinois, Mississippi, Nevada, New Hampshire, Pennsylvania, South Dakota, Tennessee, Texas, Washington, and Wyoming.
Where is the cheapest and safest place to retire in the U.S.?
There is no definitive answer, as it varies based on individual preferences and priorities. However, some popular options include South Dakota, Iowa, and Tennessee.
What is the best state to retire in on a fixed income?
It depends on individual preferences and priorities. However, states with a lower cost of living and tax-friendly policies, like Florida, Arizona, and Tennessee, are often popular options for retirees on a fixed income.
Sources:
Tax Foundation, Facts & Figures 2023: How Does Your State Compare?
Sharecare Community Well-Being Index for 2022
Missouri Economic Research and Information Center, 2022 Annual Average Cost of Living
FBI's 2021 Crime in the United States Report
National Centers for Environmental Information (2022). Climate at a Glance Statewide Mapping.