TSP Calculator For Growth
A Thrift Savings Plan works similarly to a 401k, 457, and 403b retirement plan. The TSP also shares the same contribution limits. Use this tool as a TSP calculator to project your growth potential, and it includes an employer matching option.
TSP Withdrawal Calculator For Retirement
To maximize your TSP after retirement, compare the TSP annuity payments from your current Thrift Savings Plan to rolling it over to a new annuity (without tax penalties) offering guaranteed lifetime withdrawals (GLWB). Additionally, use this TSP payment calculator to forecast future withdrawals if you're nearing retirement but not for several years.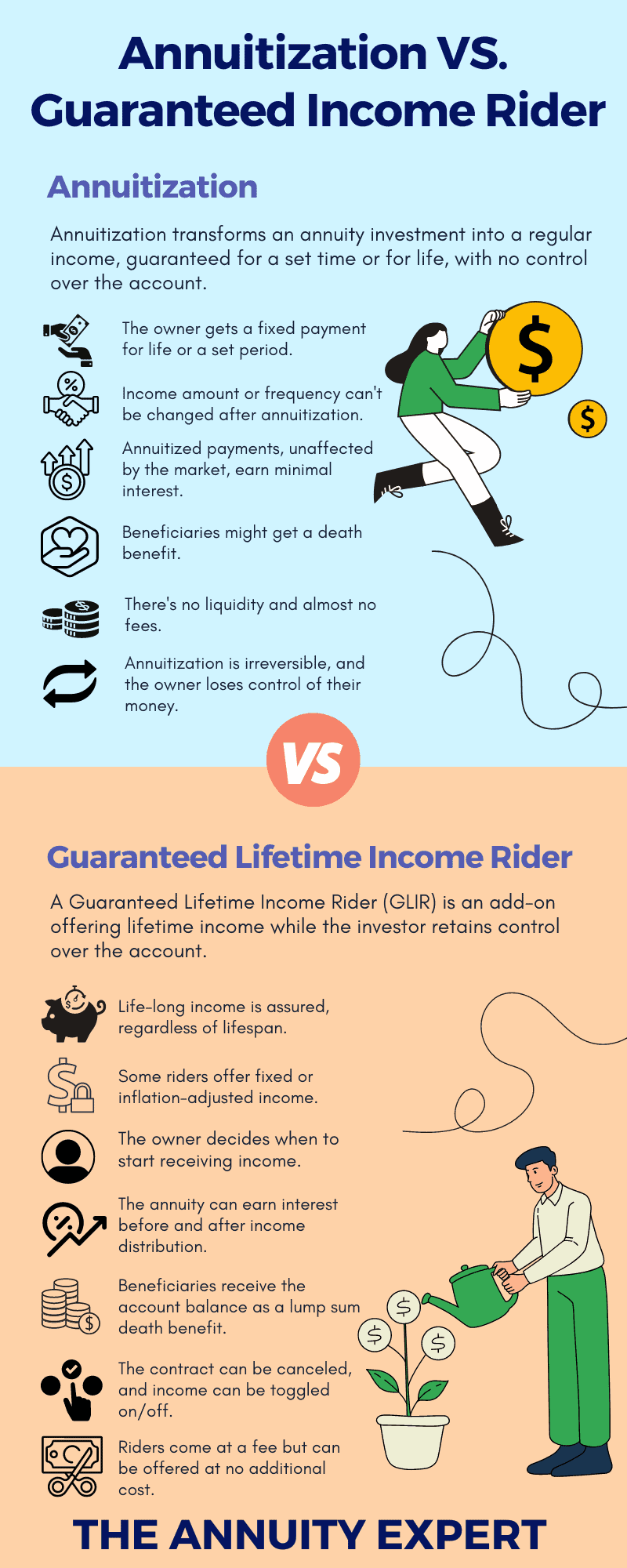 TSP Annuity Payments vs. GLWB
A Guaranteed Lifetime Withdrawal Benefit (GLWB) is an option in certain annuity contracts that guarantees a set withdrawal amount for the annuitant's lifetime, regardless of market fluctuations. One of its key features is its flexibility; even if the account balance drops to zero, the guaranteed withdrawals continue. Additionally, many GLWBs come with death benefits, ensuring that any remaining balance is passed on to beneficiaries in a lump sum.
In contrast, TSP annuitized payments, once initiated, are irrevocable and lock the retiree into a fixed payment structure. While they offer consistent payouts, they may not have a residual value upon death unless specific survivor options are chosen, potentially leaving beneficiaries without benefits.
| Feature | Annuitized Payments | Guaranteed Lifetime Withdrawal Benefits |
| --- | --- | --- |
| Nature of Payment | Regular payments for life or a specified period. | Regular withdrawals from the account value for life. |
| Flexibility | Limited flexibility once payments start. | More flexibility to start, stop, or change withdrawal amounts. |
| Control Over Principal | No control, as the principal is exchanged for payments. | Retain some control over the remaining account value. |
| Death Benefit | Typically, no benefit after death (depends on the payout). | Remaining account value can be passed to beneficiaries. |
| Impact of Market | Market changes do not affect the payment amount. | Withdrawal amounts may be affected by account performance. |
| Liquidity | No access to lump sum cash after annuitization. | Access to remaining cash value, subject to terms and fees. |
TSP Withdrawal Comparison
Historically, financial advisors recommend withdrawing 4% from your TSP and adjusting for inflation. However, the 4% rule has been debunked as a safe withdrawal rate. New research concludes that the new rule is as low as 2.8%. The following table compares rolling your TSP into a new annuity with withdrawing income or utilizing an advisor.
| Features | Annuity | TSP | IRA | Roth IRA |
| --- | --- | --- | --- | --- |
| Withdrawal Percentage | 5.20% – 6.55% | 4% | 4% | 4% |
| Can Income Increase? | Yes | Yes | Yes | Yes |
| Can Income Decrease? | No | Yes | Yes | Yes |
| How Long Will Money Last? | Lifetime | 30 Years+ | 30 Years+ | 30 Years+ |
| Annual Fees | 0 – 1.50% | 1% – 4% | 1% – 4% | 1% – 4% |
| Taxation | Taxable/Tax-Free | Taxable/Tax-Free | Taxable | Tax-Free |
| Death Benefit | Account Balance | Account Balance | Account Balance | Account Balance |
Example: A 60-year-old retiree starts withdrawing immediately from their $1 million portfolio, they would receive:
Next Steps
Use our TSP calculator to easily estimate your retirement savings. Plan your withdrawals with our free tool, ensuring you make the most of your funds for life. Don't wait – contact us for a quote today and secure your retirement!
Request A Quote
Get help from a licensed financial professional. This service is free of charge.