Like most people, you are looking for ways to make your money work for you. One option that might interest you is investing in certificates of deposit or CDs. CD rates have been increasing in recent months, and some banks offered 6% CD rates in the past. But can you earn interest this high in 2023? Keep reading to find out!
Are There 6% CD Rates Available Today?
Yes. As of November 27, 2023, the best interest rate is 6.00% APY with Alabama Credit Union. The minimum account opening deposit is $2,500.00. Outside this exception, CD rates at banks, credit unions, online, or financial institutions haven't had interest rates as high as 6 percent in over a decade, not to mention how low rates were in 2018, 2019, 2020, and 2021. However, CDs and fixed annuities have peaked at over 5 percent in the last 24 months.
Athene's Multi-Year Guaranteed Annuity guarantees 6.15% for 5 or 7 years. The growth is tax-deferred instead of taxed each year, which means triple-compounding! Inquire below for more details.
Fixed Annuities Is The Best Alternative To 6% CD Rates.
Like CDs, a fixed annuity is an insurance contract guaranteeing a specific interest rate on the buyer's contributions for a set time. Fixed annuities are ideal investments for people wanting to guarantee their premium and income while minimizing risk. Although the insurance policy does not provide inflation protection, a fixed annuity does offer other benefits that make it an attractive alternative to certificates of deposit.
Are There Any 4% CD rates?
Yes. Bread Savings is offering 4.95% APY for 36 months. CD rates at a bank, credit union, online, or financial institution haven't had interest rates this high in over a decade and are earning over four percent on average.
Related Reading: What are the best CD interest rates today?
Earn The Highest Interest Rates On Savings Today
Fixed annuities are almost identical to Certificates of Deposit (CDs) accounts and provide higher interest rates and penalty-free withdrawals for income.
*Fixed annuities are only for saving money to use in retirement.
Disclaimer: This is a review. The Annuity Expert is not associated with a bank or credit union. However, fixed annuities are sold at most financial institutions. We aim to help you find the highest interest rates for your retirement savings. We may receive a small referral fee if you purchase something using a link in this guide.
3-Month CD Rates
Banks and credit unions have the highest CD rates for three months.
6-Month CD Rates
The following banks and credit unions have the highest CD rates for six months.
1-Year CD Rates
The following banks and credit unions have the highest CD rates for 12 months.
2-Year CD Rates
Banks and credit unions have the highest CD rates for 24 months.
3-Year CD Rates
Banks and credit unions have the highest CD rates for 36 months.
4-Year CD Rates
The following banks and credit unions have the highest CD rates for 48 months.
5-Year CD Rates
Banks and credit unions have the highest CD rates for 60 months.
Next Steps
Request a quote below to see how much you can save on a fixed annuity. Fixed annuities have been paying out more than CD rates in the last ten years, and with interest rates still on the rise, it's time to start looking into this investment option. For example, a 3-year fixed annuity could offer you as much as 4 percent interest each year, significantly more than what you would earn from a CD at most banks or credit unions. So don't wait – get started today!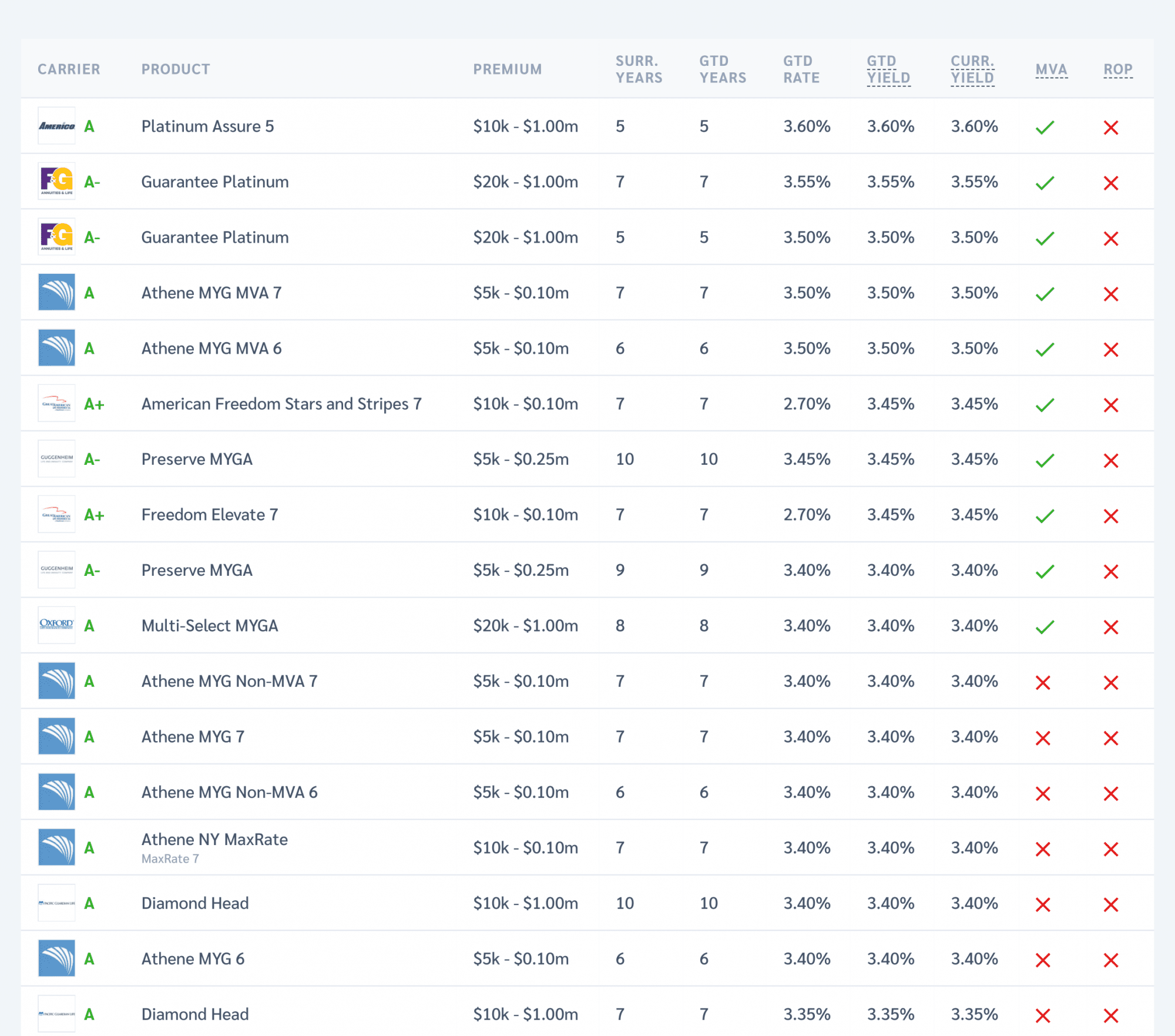 Request A Quote
Get help from a licensed financial professional. This service is free of charge.
Frequently Asked Questions
Who has the highest-paying CD right now?
Shopping around for the best CD rates can be time-consuming, but getting the most out of your savings is worth it. Luckily, a few resources can help you compare rates from over 400 banks and credit unions. One of the highest rates right now is from Bread Savings offers 5.60% APY for 12 months. But remember that these rates are subject to change, so it's crucial to compare rates regularly to ensure you're getting the best return on your investment.
What's the highest 6-month CD rate?
As of November 2023, Western Alliance currently offers the highest 6-month CD rate at 5.70%.
Are CD rates expected to rise in 2023?
The Federal Reserve raised interest rates several times in 2022, and some experts expect them to continue to rise throughout 2023. This could mean good news for savers, as CD rates tend to follow the Federal Reserve's lead. 
Will interest rates go down in 2023?
One of the most critical factors influencing interest rates is the actions of the Federal Reserve. The Federal Reserve can decrease or increase interest rates depending on various factors, including inflation and employment levels. Right now, it seems likely that the Federal Reserve will continue to increase interest rates through 2023 to slow down economic growth. However, our opinion is once the economy stabilizes from inflation, the Fed will lower interest rates.
Do CD rates go up with inflation?
Many people wonder if CD rates go up with inflation. Unfortunately, the answer is not always cut and dry. The Federal Reserve typically increases interest rates when inflation rises, leading to higher CD rates. However, banks are not required to pass those rate hikes to their customers. As a result, it's always important to check with your bank to see how any changes in interest rates will affect your CDs. You can expect that CD rates will somewhat track the inflation rate.
Do CDs make sense?
CDs have been a popular investment for decades, but in recent years there has been some debate about whether or not they make sense. One argument favoring CDs is that they can help prevent market losses. When the stock market is volatile, CD rates tend to be relatively stable, which can help investors preserve the value of their portfolios. Additionally, CDs typically offer higher interest rates than savings accounts. This can be especially beneficial for savers looking to maximize their earnings in the short term. However, it's important to remember that CDs typically have penalties for early withdrawal, so they may not be the best option for everyone. 
Are there any 3% CD rates?
As of November 2023, several banks and credit unions offer 3% CD rates.
Which bank gives 7% interest on a savings account?
No bank offers 7% interest on a savings account. However, some insurance companies offer annuities with premium bonuses of up to 20% that can mimic a fixed interest and provide a higher rate of return.
Where can I get 6% interest?
Oceaniew's fixed-indexed annuity will provide up to 6.15% interest in the first year, making it a great alternative to CDs. Nevertheless, this rate of return is variable and could change yearly based on market conditions.
Related Tools
Disclaimer: I may make a commission or a referral fee by purchasing products from our partners.