Dental insurance worth is an essential part of your overall health and well-being. It can help you pay for routine preventive dental care coverage and more expensive procedures. However, finding the best dental benefit plans can be tricky. Many options are available, and it can be hard to know which is right for you.
What Is Dental Insurance?
Dental insurance is a type of insurance specifically for dental care benefits. The insurance helps to cover the cost of procedures, such as cleanings, fluoride treatments, x-rays, root canals, and implants, to maintain proper oral health.
Dental benefits can be purchased as an independent policy or added to an overall health insurance plan. Health benefit plans require that customers choose from a list of preferred providers in a network, while others allow customers to visit any provider they choose.
How Does Dental Insurance Work?
There are two types of dental insurance: health maintenance organizations (DHMOs) and preferred provider organizations (DPPOs).
DHMOs typically have lower monthly premiums but have smaller in-network dentists that they cover.
DPPOs, on the other hand, have higher monthly premiums but provide dental coverage for more prominent in-network dentists.
Insurance plans also typically have a deductible, the amount the insured person must pay before the insurance company starts to pay for care.
For example, if your health plan has a $50 deductible, you must pay the first $50 of your dental care. After you have met your deductible, the insurance plan will start to cover a portion of the remaining costs.
How Much Is Dental Insurance?
Dental insurance plans typically cost between $15 and $50 per month, with more comprehensive plans costing more. These costs can vary depending on your age, the type of work you require, and whether or not you are looking for preventative care versus major work such as implants.
How Do I Get Dental Insurance?
Some plans only cover basic procedures, while others offer more comprehensive health coverage that may include implants, orthodontics, and cosmetic treatments.
Additionally, you will need to look at factors like cost and the provider of nationwide network dentists when choosing the right oral health plan for your needs.
You must shop plans and do your research beforehand to get the most benefits out of your plan. This might involve shopping around for a free quote from several different providers or asking your current dentist for recommendations on affordable plans they have worked with.
What are The Best Dental Insurance Plans?
Humana
Humana offers a variety of options that can meet your needs and budget. For example, their HMO plan provides dental coverage for preventive care, fillings, and teeth cleanings.
For those who need more comprehensive insurance, they offer a dental PPO plan that covers crowns, braces, and oral surgery. And for those looking for an affordable insurance option, Humana also offers a discount plan.
Cigna
Cigna is a well-known provider of dental insurance and overall health insurance options. For many years, Cigna dental insurance has focused on providing its customers with the best possible care and coverage, whether seeking cleanings, oral surgery, or other preventive services.
Offering a wide range of plans to suit different needs and budgets, Cigna dental insurance is an excellent choice for anyone looking for dental insurance. If you need basic and major services or more complex treatments, Cigna can help you get the basic and major services you need.
Principal
The Principal Financial Group is a dental insurance company that offers insurance for individuals and families. The company has a network of providers offering personalized services at discounted rates and a dental health plan that allows customers to save on dental care.
Aetna
Aetna is one of the largest dental insurance companies in the United States. They offer coverage to individuals and businesses and have a network of over 200,000 dental providers nationwide.
Aetna dental plans cover preventive care, such as cleanings and checkups, and major services like x-rays, fillings, and crowns. They also offer orthodontic coverage for both children and adults.
Metlife
MetLife is a leading dental insurance provider, offering a wide range of plans that provide comprehensive coverage for individuals and families.
MetLife also offers a variety of other insurance products, including life, disability, and long-term care insurance.
Physicians Mutual
Physicians Mutual is a dental insurance company that offers various plans to meet its customers' needs. Physicians Mutual offers both PPO and indemnity insurance plans.
PPO plans offer more flexibility in choosing a dentist but may require patients to pay more out-of-pocket costs.
Indemnity plans allow patients to choose any dentist but typically have higher premiums. Physicians Mutual also offers a variety of discounts on basic and primary services, making it an affordable option.
Blue Cross
Blue Cross dental insurance is one of the most popular dental insurance providers in the United States. They offer various personalized services that can be tailored to fit the needs of individuals, families, and businesses.
Its extensive network of dentists sets the Blue Cross apart from other dental insurance providers. They have over 80,000 participating dentist offices across the country, so policyholders can usually find a dentist near them.
In addition, Blue Cross offers a wide range of coverage options, including preventive care, essential services, and significant dental work. As a result, policyholders can choose the coverage that best meets their needs.
Ameritas
Ameritas is a leading dental insurance provider, offering comprehensive coverage to individuals and families across the country. Their plans are designed to help people stay on top of their dental health, providing coverage for routine dental checkups, major dental procedures, x-rays, and more.
Additionally, Ameritas offers flexible payment options, allowing customers to choose how best to pay for their care.
AARP
AARP has long been known as a leading provider of dental insurance services, providing coverage to millions of people across the country. Their dental plans are designed to help them afford the dental care they need, with a wide range of options to meet different needs and budgets.
With comprehensive benefits, easy online enrollment, and discounts at over 100,000 dental providers nationwide, it's no wonder many Americans turn to AARP for dental insurance.
Costco
Costco dental plans offer comprehensive coverage at an affordable cost, making them an ideal choice for anyone looking to keep their teeth and gums in great shape.
With coverage that includes regular dental checkups and cleanings and more specialized treatments like root canals and implants, Costco's dental insurance gives you the peace of mind that comes with knowing that you are taken care of.
Liberty Dental
Liberty Dental Plan is an insurance company that offers its customers a wide range of dental services. Liberty Dental Plan offers both PPO and indemnity dental insurance plans, as well as discount dental plans. Regardless of your needs, Liberty Dental Plan has you covered with its wide selection of dental insurance plans.
Liberty Dental offers affordable dental insurance plans that provide the coverage you need to maintain good oral health. With Liberty Dental, you'll have access to a network of dentists who can provide preventive care, implants, and more.
Delta Dental
Delta Dental is one of the largest dental insurance providers in the United States, covering over 50 million people nationwide. They offer various plans designed to meet the needs of individuals, families, and businesses.
The plans offer comprehensive coverage for preventive care, essential services, and major services. Plus, with over 152,000 participating dentist offices in the network across the country, policyholders can usually find a dentist near them.
Can I Get Dental Insurance Through Medicaid?
Yes, you can get dental insurance through Medicaid. Medicaid is one of the largest dental insurance providers in the United States. They offer a variety of dental plans that are designed to meet the needs of low-income families.
If you are interested in getting dental insurance through Medicaid, you can contact your state's Medicaid office to learn more about the plans they offer and how to enroll.
Dental Insurance for Seniors
As a senior citizen, you may wonder if dental insurance options are available. The good news is that several dental insurance plans are specifically designed for seniors.
Medicare is a federal health insurance program that provides coverage for seniors. Medicare does not cover routine dental care but will cover the necessary dental care to treat a medical condition.
Another option for seniors is dental insurance through the Veterans Administration. The VA provides dental insurance to eligible veterans, which can cover a wide range of services.
Choosing A Dental Plan Under The Affordable Care Act
If you are looking for dental insurance under the Affordable Care Act, there are a few things you need to keep in mind.
First, all plans offered through the Marketplace must cover a set of essential health benefits, which includes dental care.
Second, you can choose from two plans: a Dental Health Maintenance Organization (DHMO) or a fee-for-service plan (FFS).
With a DHMO, you must select a primary care dentist from the plan's network.
With an FFS plan, you can see any dentist that accepts the plan.
What Questions Do You Need to Ask to Find the Right Plan For Me?
There are a few key questions you should ask when you're shopping for dental insurance:
What is the monthly premium?
What is the annual deductible?
How much does the plan pay for preventive care, essential restorative services, and major dental work?
Is there a network of dentists that I can choose from?
What is the process for filing a claim?
By asking these questions, you'll be able to narrow down your options and find the dental insurance plan that's right for you.
Where Can I Find Dental Insurance With No Waiting Period?
One of the most common avenues is to work directly with a dental provider, as many clinics and providers offer dental plans that do not require any waiting periods.
You can also shop for dental plans at independent dental insurance companies, many of which offer affordable dental plans that include no waiting periods.
Finally, if you have insurance through your employer or another provider in the network, it's worth checking in to see what additional dental coverage options may be available.
Where Can I Find Dental Insurance That Covers Implants?
When it comes to implants, having the right insurance can be invaluable. Implants are a relatively new dental procedure, and many insurance providers do not cover them yet. If you are looking for implants and need to find dental insurance that covers them, there are a few key steps that you can take.
The first step is to research online to see what dental insurance options are available in a dentist's office in your area. Many dental insurance providers offer a range of plans with different coverage levels, so it can be helpful to look at several options and compare the available plans.
The next step is to contact individual dental insurance providers directly and ask for complete details about implants. This will let you know precisely what coverage you can expect if you choose to work with a particular provider and any additional dental care costs or restrictions that may apply.
What to Know Before Getting Dental Implants
Before getting dental implants, it's important to know the potential risks and complications. While implants are generally safe, there is always a risk of infection or implant failure.
Having realistic expectations about what implants can do for you is also essential. For example, implants can provide an excellent solution for missing teeth but will not necessarily look or feel exactly like your natural teeth.
Can I Combine Dental And Vision Insurance?
While dental and vision insurance significantly helps cover the dental and vision care cost, they are not typically combined into one plan. This is because different insurers typically provide dental and vision insurance.
What Are Some Tips For Saving Money On Dental Insurance?
There are a few key ways that you can save money on dental insurance. One way is to ensure you understand your coverage and what it does and does not cover. Unfortunately, many people choose dental insurance plans without fully understanding the coverage, which can lead to them paying for services that are not covered.
Another way to save on dental insurance is to choose a plan with a high deductible. You will have to pay more out-of-pocket costs for services, which can lead to lower monthly premiums.
In-network providers have agreed to provide services at a discounted rate, so you can save money on your dental care by using these network providers.
Next Steps
Dental insurance may be a good option if you need dental care and are looking for a way to cover the costs. A dental benefit plan can be purchased as an independent policy or added to an existing health insurance plan. Contact us today for a quote on dental insurance and see how much money you could save on your next visit to the dentist!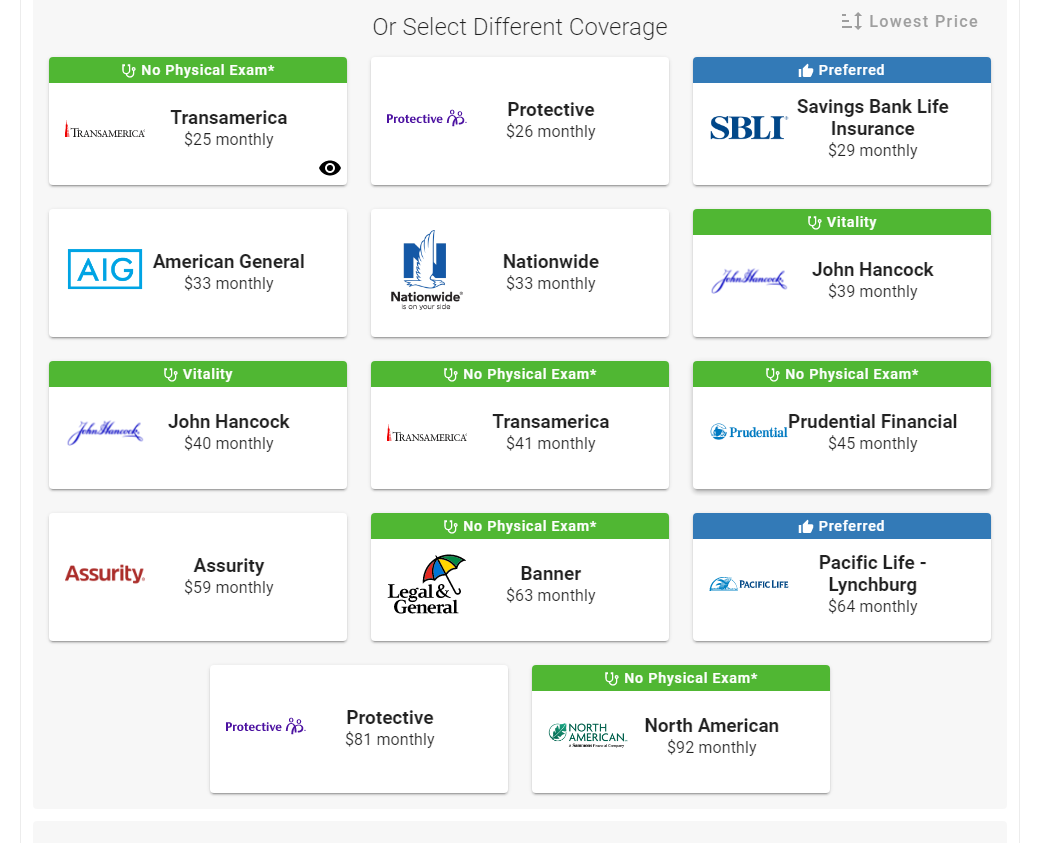 Dental Insurance Quotes
Contact us today if you want personalized service from a licensed insurance agent. Free of charge.
Frequently Asked Questions
Which dental insurance covers implants?
Dental insurance policies vary in terms of what types of treatments and procedures they cover. Some policies may cover implants, while others may not. You should also be aware that even if your policy does cover implants, there may be limits on the coverage, such as a maximum dollar amount that will be covered or a limit on the number of implants that will be covered. It is also worth noting that many dental insurance policies have exclusions for specific treatments, such as elective or cosmetic procedures, which may include implants.